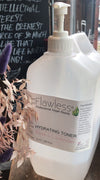 Toner- Refill Flawless (price per 100g)
Take a step closer to zero waste living with the Flawless refills! 
This rose toner has been carefully formulated to leave your complexation feeling hydrated and fresh. Made with organic rose which contains vitamin C to help stimulate collagen and vitamin E to moisturise your skin. The anti-inflammatory properties in the lavender will soothe and heal sensitive skin while witch hazel tightens those pores.

How to use:
Use morning and evening on a cleansed face. Apply a small amount of the product onto a reusable cottoon pad and gently sweep across your face in an upward motion. 
Ingredients :
Aqua (Water), L. angustifolia (Lavender) Hydrolate, R. damascena (Rose) Hydrolate, H. virginiana (Witch Hazel), Sodium Lactate, Coconut Glycerin, Phenoxyethanol, Ethylhexylglycerin, Parfum