"Why we do what we do?
Goodness Zero Waste was started from the realisation of just how difficult it can be to do your bit. We all live busy lives and for us to be able to make positive changes for our planet alternatives need to be as accessible as possible.

It's easy to loose sight of the magnitude of a problem when we don't necessarily see it for ourselves but it's so important that we take a moment to appreciate just how beautiful our world is and to do what we can to look after it.

GZW is here to make sustainable shopping simple, affordable and enjoyable!

"We don't need a handful of people doing zero waste perfectly. We need millions of people doing it imperfectly" Anne- Marie Bonneau
About Goodness Zero Waste
We're a plastic free shop, helping people to avoid single use packaging, and we're working with local, Manchester makers wherever possible. You'll find plastic free food, beauty and household products, plus ethical gifts and other exciting features including a peanut butter machine, local honey on tap and pick and mix!


Our mission is to try and help 'making a difference more convenient'. We wanted to create a fun and immersive experience for people to try and do their bit and make this kind of shopping more mainstream.
How it Works
You can bring your own tupperware/ jars etc or use what we have in store, whether it's a paper/ cane fibre bag, a free jar which has been donated and sterilised ready for you to reuse or there are also jars and amber glass bottles available to buy.

Whatever the container simply pop it on the scales and print a weight sticker (you can keep using this sticker each time you come), fill it up, scan the label and find the product, bob's your uncle the scales do all the hard work for you!

For click and collect orders, we will use paper/cane fibre bags for your shopping (unless otherwise stated) and have it all ready for you to collect at a time that suits you.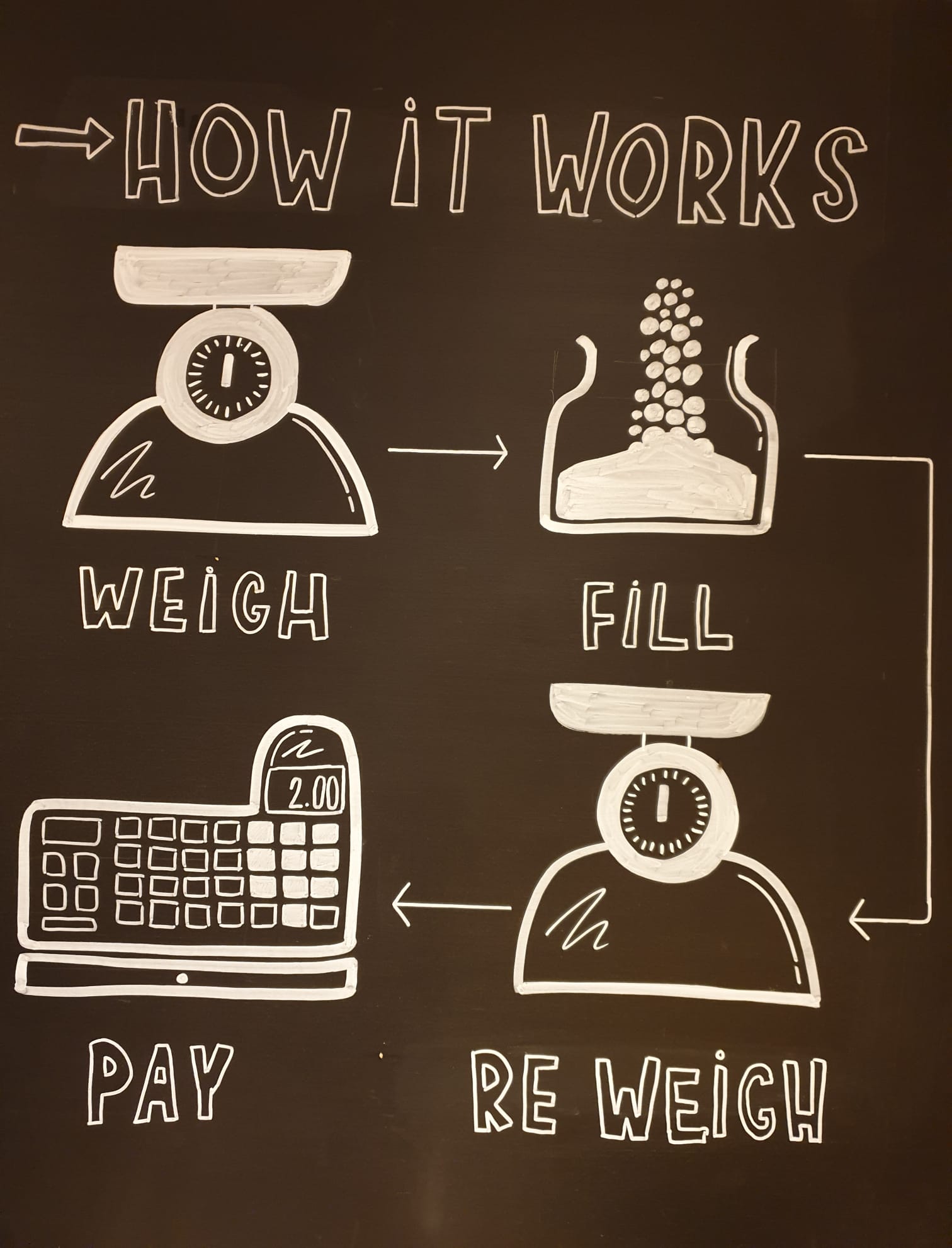 Testimonials
Reviews from our lovely customers
"

Such a lovely shop!

Such a lovely shop, with really friendly and caring staff. Most cupboard staples and health & beauty products stocked. The extra special blonde coffee roast they have at the minute is spectacularly delicious! Would highly recommend!

By Siobhan Dolan
"

It was a pleasure shopping here!

Such a great variety of items for sale. The young lady who was serving was extremely helpful. It was a pleasure shopping here... we'll definitely be back!

By Jane Purkis
"

Made my green goal so much more achievable

Best place ever! ☺ Best staff, so kind, friendly and helpful. So fantastic to have the opportunity to become green through this shop. Made my green goal so much more achievable.

By CCE on May 20, 2020
"

Love this Refill Shop!

Love this refill shop. We get all our herbs, pasta, branflakes, orzo, washing up liquid and handwash etc from here. Also have amazing vegan marshmallows and other sweet treats on offer. The owner who serves us is so lovely too.

By Cathryn Bostock on 09 June, 2020
"

Best no waste shop in Manchester!

The peanut butter is so good, will definitely go back again, the best no waste shop I've been to in Manchester and really welcoming.

By Jordan
"

So lovely and helpful

Went in here for the first time today, what a nice friendly shop, and the lady was so lovely and helpful, got some bombay mix and made my own peanut butter, both are amazing, will definitely be going back, Thank you

By Elaine Hamand