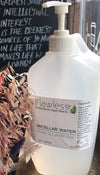 Micellar Water- Refill Flawless (price per 100g)
Take a step closer to zero waste living with the Flawless refills !
Flawless Cleansing Water is a hardworking micellar water and an essential part of your Flawless skincare wardrobe. Formulated with gentle surfactants, anti-inflammatory dipotassium glycyrrhizate and hydrating glycerin, it combines excellent cleansing power whilst supporting the skin barrier with just 9 ingredients.
How to use:
Use this micellar water each morning and evening to remove makeup, excess oils and dirt. This product can also be used as a cleanser. Apply a small amount of micellar water onto a reusable cotton pad and gently sweep across your face in an upward motion until the face is completely clear of any makeup. 
Ingredients : 
Aqua (Water), Lavandula angustifolia (Lavender) Hydrolate, Aloe Barbadensis Leaf Extract, Polysorbate 20, Panthenol, Sodium Lactate, Lavandula angustifolia (Lavender) Oil, Phenoxyethanol, Ethylhexylglycerin. 
*occurs naturally in essential oils.