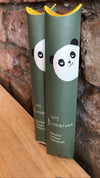 Truth Brush- Children's toothbrush
This beautiful tiny scaled down bamboo Truthbrush is perfect for children aged 3-8 years old.

This brush has soft plant based bristles which are 62% castor oil and 38% nylon and the packaging is fully recyclable!
Children should always be supervised while brushing!
The Tiny Truthbrush is the Winner of the Eco Excellence award!