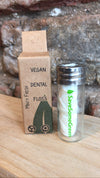 Plastic free dental floss with bottle
Made with natural silk but with the added bonus of cardamom Goodness. Lightly lubricated with Candelilla Wax so it glides effortlessly between your teeth.
The packaging is plastic free, recyclable and compostable .

The spools of floss arrive in a lovely glass bottle topped with a steel cap incorporating a little cutter too.