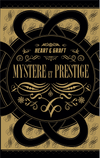 India - Heart and Graft Coffee (price per 100g)
Roasted in Manchester by Heart and Graft, these India coffee beans are full bodied from a stunning estate in the South of India.

With heaps of sweetness and body, this is a true Mystere, a comfort coffee with bags of character.

Its very easy to brew however you choose, with notes of rich cocoa and baked plums giving a satisfying morning espresso or a long lazy french press.