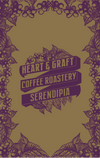 Honduras - Heart and Graft Coffee (price per 100g)
This coffee is wonderfully complex, packed with a multi layered tropical juicy fruit acidity, with a jammy sweetness delivering all that flavour on a bed of luscious mouthfeel. That magical combination of sweetness, fruity complexity and mouthfeel that enhances flavour. On filter, there is all that pineapple and pomegranate, with the mouthfeel carrying a hazelnut and caramel tone.
It's a wonderful espresso. It makes one of the best 4/6 oz long blacks! No more than 5/6 oz milk on a big double of this (19g / 30-30secs / 35-40g) but there is a fantastic vanilla and caramel tone to be had!