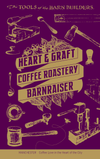 Barnraiser- Heart and Graft Coffee (price per 100g)
Heavy Chocolate, Brown Sugar, Macadamia Nuts

Sometimes life just calls for a big chocolatey coffee. This roast is all about getting that rich chocolate flavour into your cup, giving a delicious background of orange marmalade acidity and lots of fudgey sweetness.

Heart and Graft have worked hard to develop a rich, full coffee, but still tastes clean and results in an espresso with lots of complexity served black and capable of giving lots of character and depth your longer drinks.

This edition:

50% Monte Carmelo Pulped Natural

30% Indian Melkodige Estate Washed

20% Honduras Serendipia, Washed

Make the most of the sweetness and depth of this by brewing big. Use 18.5g of ground coffee to brew out 38g between 30-32 seconds. Use water between 92-94 degrees for brewing.