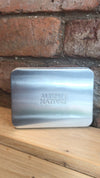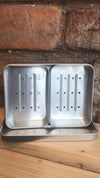 Alternative - Double Soap Tin
A great way to keep your soap safe and dry while travelling ! 
This double width soap tin has two removable inserts to aid drainage and ease drying, extending each bar's life. Plus the aluminium material ensures the tin won't rust when exposed to water. It's great for travels, or just keeping in your bathroom. 30mm (h) x 136mm (w) x 97mm (d).