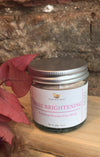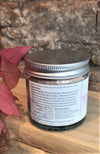 Rose Face Mask - Funky Soap
Plastic free Packaging - Presented in Glass Jar with aluminium lid, 40g
Our Botanical face mask is carefully blended with plant based ingredients topped with essential oils, to stimulate your sense and add a radiant glow to your skin.
French Pink Clay will smoothly exfoliate and purify.
Rose Petal Powder visibly plumps and hydrates leaving your skin glowing
Rosehip Powder promotes a brighter complexion by eliminating scars and repairing deep cellular damage.
Vitamin C essential ingredient for collagen production for a firmer youthful appearance.
Directions: Mix about 1 tbsp of Botanical Powder Face Mask with a small amount of water in a bowl to activate the mask. Gently spread mask over face and neck avoid eye area and leave until dry. You can re-moisten the mask by misting with water and leave on for longer, or just gently wash off. Use 1-3 times per week. Suitable for all skin types.

Ingredients: French Pink Clay, Rosehip Powder (Rosa Canina Fruit), Rose Petal Powder (Rosa Gallica Officinalis), Hibiscus Flower Powder (Hibiscus rosa-sinensis), Vitamin C (Ascorbic Acid Powder), Vitamin E Oil (Tocopherol), Geranium Ess. Oil (Pelargonium Oil) Citral,Geraniol, Citronellol, Limonene, Linalool (within essential oil)